Welcome to the Official website of the Laytonsville District VFD
Since our founding in May of 1952, the Laytonsville District VFD has relied on the community for support. Once again, we are turning to you, our neighbors, our community, our friends for that support. On January 13, we kicked off a capital campaign to raise funds for a major renovation and expansion project at the station.
As the years have gone on since the current station was built in 1965, our volunteer membership has increased consistently, while the functional living and working spaces of the fire station have remained basically the same. Through our current fundraising efforts, we have raised approximately $500,000 of the expected close to $2 million cost of the renovation and expansion.
Our project includes an expansion of almost 2800 square feet, with the renovation of our current 3000 square foot station living and working area.
Quoting Chief Stanley S. Sutton, Jr., 'We have simply outgrown the station. This project will allow us to train, learn, and serve the community more effectively. We all want to be here as much as possible, and this expansion will allow us to be here more, which will help us serve the community more efficiently and effectively.'
Please consider making a contribution to our Building Fund. Checks can be mailed to:
Laytonsville District VFD Building Fund
21400 Laytonsville Road
Laytonsville, MD 20882
Or, you may click on the 'Donate' button on the left side of the website, and make a donation via PayPal if you choose.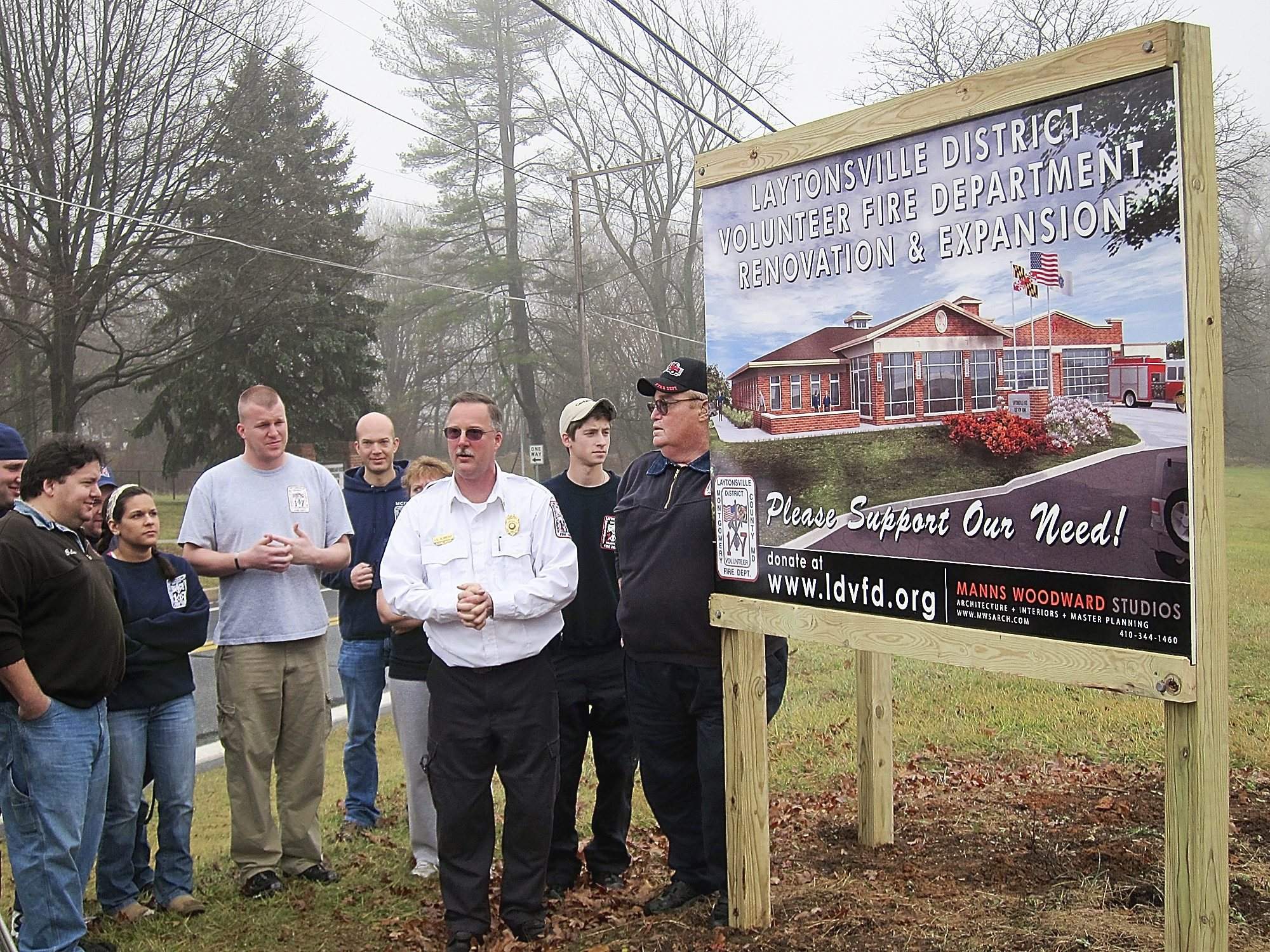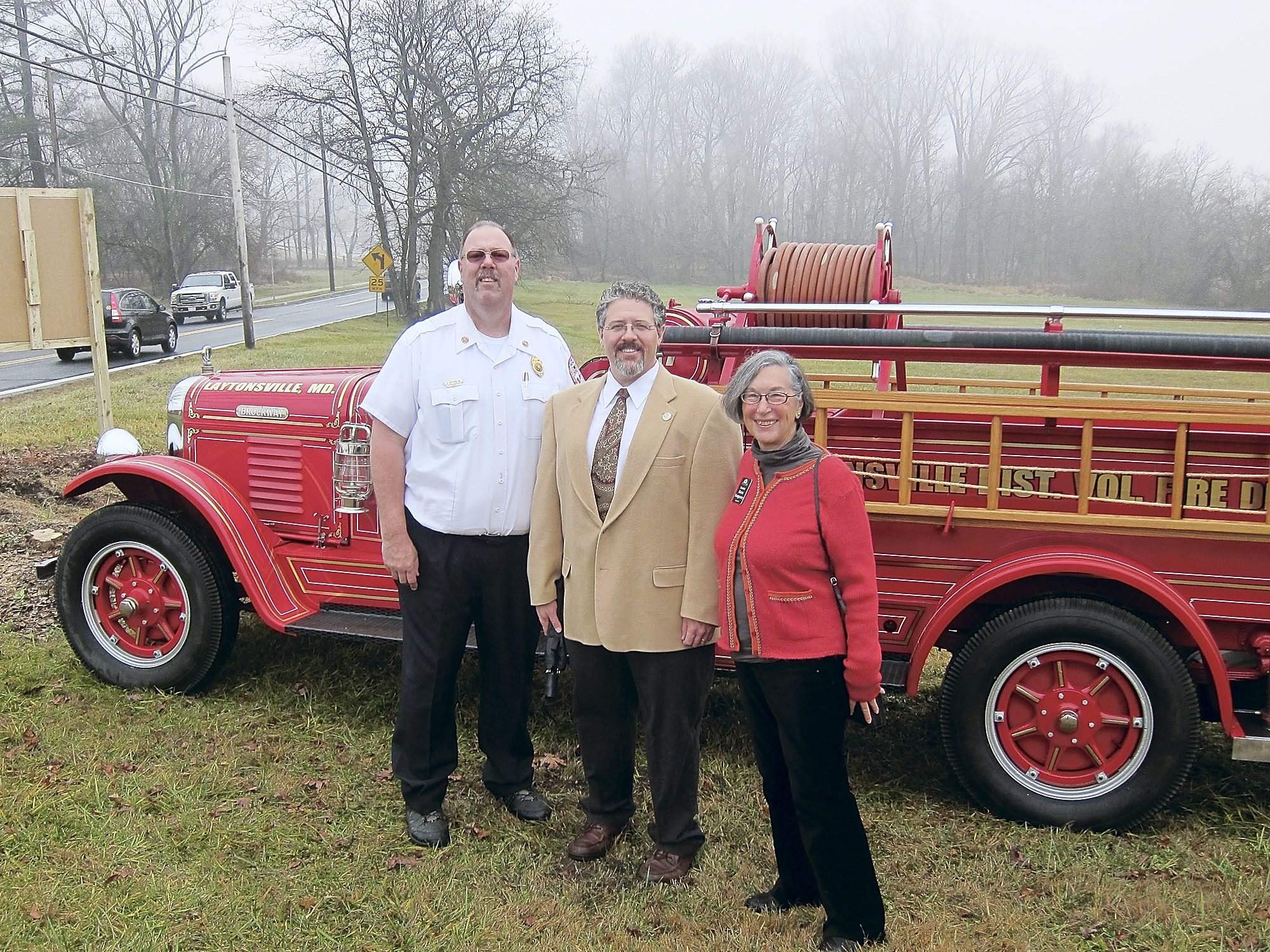 May 2 - Line of Duty Death - Reisterstown VFC, Baltimore County

MAY 02 - It is with great sadness that we have learned of the death of FF Gene Kirchner of the Reisterstown VFC in Baltimore County. Gene was operating at a fire April 24th on Hanover Road attempting to rescue a victim on the second floor of the structure. Gene suffered critical injuries during this rescue attempt and was hospitalized for the past eight days battling for his life. Rest in peace, Gene.... (Full Story & Photos)

April 14 - The latest Nicholson arrives in the world

APRIL 15 - On Sunday April 14, at 0549 AM, Stephanie Nicholson, wife of member Frankie Nicholson gave birth to a happy, healthy baby girl, Adelyn Harper. Addie weighed in at 8.36 pounds and 21.5" long. All are doing well, and they are expected to be home on Tuesday or Wednesday this week.... (Full Story & Photos)

March 25 - Passing of Past President Ralph Symmes, Jr.

MARCH 27 - It is with sadness that the members of the Laytonsville District VFD announce the passing of Life Member Ralph Symmes, Jr.

Ralph served as the President of LDVFD in the 1980s, and later moved to Gettysburg, PA, where he also served the Gettysburg FD and obtained life membership there.

A Memorial Service will be held on Thursday, March 28, 2013 at the Gettysburg Fire Department, 35 N. Stratton ... (Full Story & Photos)

March 9 - Chief and President visit Annapolis

MARCH 09 - On Saturday, March 9, 2013, Chief Sutton and President Bowles, accompanied by Administrative Member Keeler and Mayor Prats visited the Maryland State House to present information concerning our station and the planned renovations. The Chief, President, and Mayor visited both houses of the state legislature to garner support for a bond bill in support of our renovation project. We will hopefully hear ... (Full Story & Photos)

Your feedback is important to us! Feel free to sign the guestbook.